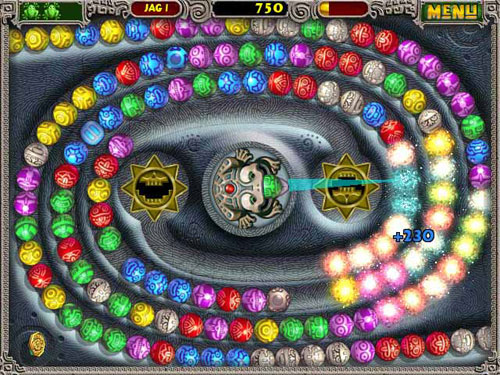 Jim often tries to get me to play new computer or video games that he thinks I'll like, and I usually wiggle out of it by saying, "Yeah, just what I need—one more thing to suck away my non-existent free time!"


So far I've avoided getting sucked into the Wii for more than a half-dozen rounds of Mario Party 8 with the boys—but then Jimmy (that little imp) got me hooked on
Zuma
. I just know his dad put him up to it. Jim told me about Zuma months ago, tried selling it to me on the basis that it's about a secret Mayan temple (so clever, knowing my weakness for all things Mayan) but I was strong, I resisted. So he got Jimmy to play it, and he became really good at it, and then
he
tempted me.
Sigh.


And now I'm completely and utterly hooked. If I thought computer solitaire was bad, this is so,
so
much worse; it's like electronic crack. You can download a trial copy from
PopCap Games
if you think you've got the moral fiber to keep your habit under control, but don't say I didn't warn you.